The Time of Our Lives
Circadian Rythmns, Sleep and Light. A Research Networking Event organised by Aarhus Institute of Advanced Studies.

The Time of Our Lives
24 May
at
10:00
–
16:00
CEST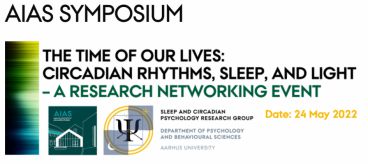 Sleep and Circadian Psychology Research Group, Department of Psychology and Behavioural Sciences, Aarhus University
Organisers
Lisa M. Wu, Ph.D. (Associate Professor, AIAS) and Ali Amidi, Ph.D. (Associate Professor, Psychology and Behavioural Sciences) from the Sleep & Circadian Psychology Research Group.

Aim
Circadian rhythms are cycles of rhythmicity in our behaviour, physiology and biochemistry, that occur approximately every 24 hours. They form an adaptive mechanism for organisms to coordinate vital functions from cellular processes to physiological functions to our very behaviours.
The nature and timing of our circadian rhythms can therefore play an important role in every aspect of our functioning. Circadian rhythms are tightly connected with sleep, a behaviour in which we spend a third of our lives. Light happens to be the strongest entrainer of our circadian rhythms, and therefore exerts a powerful influence over our circadian rhythms.

The aim of this symposium is to activate and foster networks and interdisciplinary collaborations focused on the topic of sleep and the circadian timing system, how they interact with human psychology, health, and behaviour, and circadian-driven interventions including light therapy.
This symposium is set against the backdrop of a new AU-wide research group called the Circadian Psychology and Sleep Research Group.
Audience
Interested researchers, students, and professional at all levels and across disciplines in Denmark and neighbouring countries.
Type of Event
This will be a small-medium-scale informal symposium consisting of invited speakers and 2 keynote speakers aimed at providing a networking opportunity for attendees and to also highlight current research and research labs in the field of circadian rhythms, sleep and light. Attendees will have the opportunity to present abstract posters.